For more than 17 years, older adults in Georgetown have counted on Colleen Ranshaw-Fiorello to do the right thing, and time after time she delivered.
In her role as the town's Council on Aging director, Ranshaw-Fiorello has built relationships, built programs, and helped build what she considers her crowning achievement – a new Senior Center.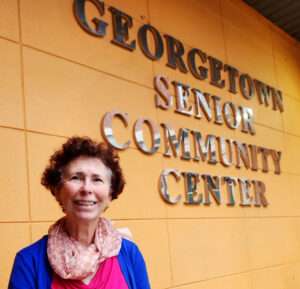 After almost two decades at the helm, Ranshaw-Fiorello has decided to call it a career at the age of 68. In July, she announced she would be stepping down and her last day in the position will be in November.
"It's truly been an honor and a privilege," Ranshaw-Fiorello said. "The relationships have been so profound. And I'm sure some of the relationships will continue."
Each May, the Administration for Community Living leads the celebration of older Americans each year. This year's theme was Aging Unbound, and it continues to offer an opportunity to explore a wide range of aging experiences and promote the importance of enjoying independence and fulfillment by paving our own paths as we age. 
That's what she has done in town for the past 17 years and as a member of the AgeSpan Board of Directors for the past 14.
Ranshaw-Fiorello got her first taste of social work as a teenager when she worked a summer job at a daycare in Lawrence. She immediately felt that connection, which led to a career in the field and eventually the Georgetown Council on Aging.
"I have a sense of mission," Ranshaw-Fiorello said. "I have a sense of wanting to connect people to opportunities and the services they deserve."
When she took the position at the COA, her office was in Town Hall and the Senior Center didn't have a permanent home. It moved around from one rented space to another over the years, with stops that included churches, the library, and the Housing Authority.
She would travel back and forth from her office to the Senior Center, wherever it was at the time, with her Subaru Outback full of boxes containing supplies and materials for the programs being offered.
When the Penn Brook School was built, that opened space in the Perley School. Ranshaw-Fiorello lobbied the town, built support for the Senior Center, and eventually got money in the town budget to renovate part of the old school into the current Senior Center.
The new center officially opened in 2017.
"The town rallied around it," Ranshaw-Fiorello said. "It brought everything under one roof. We're far more efficient and far more effective."
Ranshaw-Fiorello's last day is scheduled as Nov. 4, but she said she is willing to stay on a bit longer to ensure a smooth transition.
Once that's done, she's looking forward to spending more time with her family, and maybe even taking advantage of some of the programs she helped build.
"I feel very good (about how I'm leaving things)," Ranshaw-Fiorello said. "The town is in a good place with this facility, staff, programs, and services.