It's safe to say Rhina Espaillat, a self-proclaimed Trekkie, has lived long and prospered in the literary world.
Over nine decades of writing, the Newburyport resident has published 21 books, won numerous awards, and later this fall, Boston College will dedicate a room in its library to her works.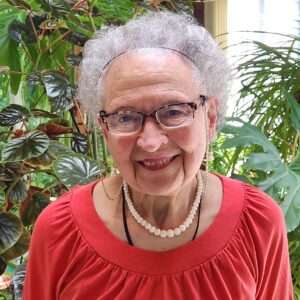 At 91, she is just as passionate about art as she was as a child. Rhina regularly writes, reads, and translates poems. Her work in that field includes translating American masterpieces such as Robert Frost's poems into Spanish and converting works of all kinds such as those of St. John of the Cross into English for their value as literature.
She even puts out a pretty good spread for lunch when she has visitors.
"I can't (stop writing poetry). It's part of my being. It's like breathing in and out," Rhina said. "This is it. This is what I do."
Each May, the Administration for Community Living leads the celebration of older Americans each year. This year's theme was Aging Unbound, and it continues to offer an opportunity to explore a wide range of aging experiences and promote the importance of enjoying independence and fulfillment by paving our own paths as we age.
Rhina's family moved from the Dominican Republic to New York City as political refugees in 1937 after her great-uncle questioned then-Dominican dictator Rafael Trujillo's actions against the Haitian population of the Republic. She joined them permanently two years later and grew up in the Hell's Kitchen neighborhood.
She was first published at 15 years old in The Ladies Home Journal in 1947. Her English teacher had submitted her work without Rhina knowing. Rhina was shocked when she got a letter in the mail notifying her that three of her poems were being published.
When she was 16, Rhina was accepted into the Poetry Society of America, making her the society's youngest member ever.
"As a poet, you can reach into the minds of people and that's very satisfying," Rhina said.
There's no doubt Rhina is doing that. The Liquid Pour in Which My Heart Has Run: Poems by Sor Juana Ines de la Cruz is the 21st work of hers published. Additionally, she is a two-time winner of the Howard Nemerov Sonnet Award, winner of the Richard Wilbur Award, the T.S. Eliot Prize, and the Tree at My Window Award from the Robert Frost Foundation.
She has also made a name for herself as a translator, most notably translating the poetry of Frost and Wilbur from English to Spanish. Ten of her Frost translations are on the Robert Frost Trail at Lawrence Common.
Rhina married Alfred Moskowitz in 1952 and graduated from Hunter College with a Bachelor of Arts degree in 1953. They were both public school teachers while raising their two sons in Flushing, Queens. In 1990, she elected for early retirement and moved with her husband to Newburyport to be closer to their children and grandchildren.
Newburyport has provided inspiration to her family. She continues to write poetry and started the Powow River Poets, the local chapter of the Massachusetts State Poetry Society, while her husband and sons helped out at the Newburyport Art Association.
Its obvious family is near and dear to Rhina. Much of her poetry is about relatives, photographs of the family (some more than 100 years old) fill her house, and there are statues made by her late husband in almost every room.
These are the constant reminders from which her poems are born. They plant the seed, and Rhina helps it grow to boldly go wherever the creative process takes it.
"Poems come by themselves, and I don't usually know what they're about. Then I hear the drumbeat. That's the meter," Rhina said. "Poetry is not written with the brain. It's written with the body. You don't tell it what to do. It tells you."