AgeSpan is excited to team up with several community partners for the 12th annual LGBTQ+ Elders in an Ever-Changing World Conference.
The virtual conference is June 15 from 9 a.m. until 3 p.m. The theme is "Forward is a Fluid Motion: Aging with Hope, Positivity, and Resilience" with keynote speaker Dr. Imani Woody.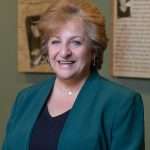 Woody is the founder and CEO of Mary's House for Older Adults, Inc., in Washington, D.C. A nationally known thought leader, she has advocated for the rights of women, people of color, and LGBTQ+/SGL (Same Gender Loving) people for more than 25 years.
AgeSpan is hosting this event with Good Shepherd Community Care, LGBTQIA+ Aging Project Fenway Health, Over The Rainbow Social Group, and the Salem State University School of Social Work.
Over the years, the conference has grown from its local roots into a national – and even international – event. Last year, we had attendees from 28 states and three countries. The conference happens during Pride Month, which began after the Stonewall riots, a series of gay liberation protests in 1969, honors the movement for LGBTQ+ rights and celebrates LGBTQ+ culture.
Conference attendees include care managers, LGBTQ+ outreach coordinators, students, nurses, CEOs, and social workers. The conference focuses on interdisciplinary practices and community engagement for people working with lesbian, gay, bisexual, transgender, queer/questioning + older adults and caregivers. LGBTQ+ People interested in their own aging or caregiving needs are invited to attend.
The cost for the conference ranges from $25 for seniors and students to $95 for an option that includes CEUs. Visit https://lgbtqeldersconference.org/ for more information about workshops or to register.
Are you caring for an older adult or need help locating healthy aging resources? Our experienced staff is available to help. Visit us online at www.agespan.org for more information. You can also call us at 800-892-0890 or email info@agespan.org. Joan Hatem-Roy is the Chief Executive Officer of AgeSpan.