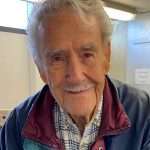 Sometimes it's easy to take for granted how important some of the simplest things in life are, such as walking.
That has not been lost on Ed Arsenault, 86, who delivers about 18 meals a day, five days a week, to those who aren't as mobile in Haverhill for our Meals on Wheels program.
"It keeps the legs moving. That's really the key," Arsenault said. "I can still walk. I deliver to people who may not be able to walk anymore."
It's something he's been doing for about 20 years now, ever since taking over the route for his wife, Nancy, who did it herself for 24 years.
Every May, the Administration for Community Living leads the celebration of older Americans. This year's theme of Aging Unbound offers an opportunity to explore a wide range of aging experiences and promote the importance of enjoying independence and fulfillment by paving our own paths as we age.
"Ed is dedicated and caring," said Virginia Chapinski, a nutrition site manager with AgeSpan. "He has been delivering meals for about 20 years. In these 20 years, Ed has shown how he cares for his clients, and if something is 'off' about someone, he will call us to have someone check on them. Without volunteers such as Ed, we in the nutrition department could not make this possible." Each weekday, Arsenault loads up his 2020 Honda with the meals at a little past 9 in the morning and then heads out to the Summer Street area to deliver. The route typically takes about three hours.
Some days he delivers fewer meals, some days he even covers routes for other drivers. Some people get meals every day because it's the only way they can eat.
"A lot of people need it badly," Arsenault said. "They have nothing. People need to eat."
Arsenault retired in 2000 after a 41-year career with AT&T. He kept busy with projects around the house for a while, but eventually needed something else to do.
So, when Nancy decided to retire from her Meals on Wheels route, Ed stepped up and has been filling in ever since.
"I wouldn't change a thing I'm doing," Arsenault said.