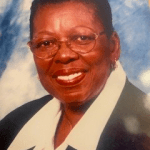 Kalister Green-Byrd earned a bachelor's degree and two masters' degrees while working and raising seven kids in Haverhill. She has volunteered on countless boards and been appointed to numerous organizations since the Johnson administration, so you'd think it's time for a break, right?
Nope.
Even after more than 60 years of civic activity, Green-Byrd remains a force for change and improvement in the city. That's why when she got a call from the chairperson of the Haverhill Housing Authority on behalf of the Mayor a couple of years ago to take an appointment as its tenant representative, it was hard for her to say no.
"I wanted to help wherever I could contribute," said Green-Byrd, who will be 89 next month. "I've been involved community wide. I felt it was important for the community to participate."
Participate is an understatement for what Green-Byrd has done for the community since moving here in the early '60s. She was the first African American, woman, and tenant to be part of the Haverhill Housing Authority. She has been on the Board of Directors for Community Action, Inc., the YWCA, and is a founding member of the League of Women Voters of Greater Haverhill to name just a few of her contributions.
Every May, the Administration for Community Living leads the celebration of older Americans. This year's theme of Aging Unbound offers an opportunity to explore a wide range of aging experiences and promote the importance of enjoying independence and fulfillment by paving our own paths as we age.
Green-Byrd remains active on the HHA and more recently joined the Board of Directors for the Latino Coalition.
"Not only does Kalister work with the administrative side, but she is a faithful advocate for all residents within her community," said Kelsey Redden, a resident service coordinator with AgeSpan. "Her kindness is truly unmatched. She has helped navigate tough times for both the Haverhill Housing Authority and residents with her extensive knowledge and compassion towards making improvements."
Her focus now is to help form a Local Tenant Organization. The organization makes matters more local and gives tenants more of a voice when dealing with policies, laws, and other tenant issues.
"It impacts the quality of life and living of the tenants," Green-Byrd said. "I really like that change. I love sharing and providing opportunities for other people to learn and grow."
Green-Byrd grew up in the segregated south and moved to Massachusetts in 1955 to live at what was then Otis Air Force Base in Falmouth, where she made friends with someone who lived in Haverhill.
After eight years on Cape Cod, it was time for a change. Green-Byrd had visited Haverhill several times by that point, and it reminded her of the city she grew up in, Decatur, AL., so the family moved north.
It wasn't that simple, however. Green-Byrd said it was hard to find adequate family housing in Haverhill, especially for a family of nine, so that was the impetus for her civic engagement.
Determined to make a good life for her family, she became active in the community and started to meet a lot of people. When Community Action, Inc., opened its doors she was appointed to be a member of its leadership board.
That was the start of an impressive run of activism in the community that continues today and has changed the landscape of Haverhill forever. In 2012, she was one of several prominent Haverhill residents immortalized in the Essex Street Gateway Community Mural.
"It's taken a while for that to sink in. I'm still processing it and realize how blessed I am at this age to still do the things I do in this community," said Green-Byrd, who was recently named one of Haverhill's Most Influential People by The Eagle Tribune. "I'm humbled, I'm grateful, and I'm blessed I've been able to contribute to make the city a better place for people to live."
Her other career was in education. Green-Byrd was a teacher in Haverhill for five years before working at the State Department of Education for 21 years, where she was an administrator in the Title 1 Program for 50 school districts.
All seven of her children graduated from high school and got some form of secondary education. Four of her children earned bachelor's degrees.
"I want to express my admiration for Kay (Kalister), who inspires people from all backgrounds," said Clara Ruiz Vargas, executive director of the Haverhill Housing Authority. "Kay sees challenges as opportunities to improve her community, and her positive attitude towards the present and future, coupled with her willingness to help others, are some of her best qualities. Kay is like a breath of fresh air to the City of Haverhill and the Haverhill Housing Authority community."