Nobody embodies the theme of this year's Older Americans Month – Aging Unbound – better than Grace Ann Steed.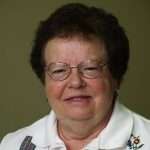 Grace Ann is an unending source of energy and activism who has fueled AgeSpan as a member of its Board of Directors for the past 17 years. She has served on numerous committees at the agency, helped guide it through a major rebranding, and comes prepared with questions for every meeting.
"I love dealing with people," Grace Ann said. "It makes me feel very happy. I always let them know I care about what they're doing. Everybody matters to me."
Every May, the U.S. Administration for Community Living leads the celebration of older Americans. This year's theme of Aging Unbound offers an opportunity to explore a wide range of aging experiences and promote the importance of enjoying independence and fulfillment by creating our own paths as we age.
Seventeen years ago, Grace Ann was looking for a way to chip in locally. She wanted to continue her work with older adults, so she called the development department of what was then Elder Services of the Merrimack Valley, and soon she found herself touring the agency's facilities.
It didn't take long for her to know that's where she wanted to be.
"I could see (my name) on the wall there. ," Grace Ann said. "I knew I could be on the board, around those wonderful people, I could make a contribution."
Grace Ann greets and thanks every golfer at the agency's annual fundraiser, she's actively involved and scrupulous during budget season, and when she's in the office, she takes the time to thank as many employees as possible for what they do.
Now her name does grace the wall of the Board Room at AgeSpan's main office in Lawrence, along with others who have contributed to the agency's mission.
"Grace Ann is an incredible person and very important to everything we do at AgeSpan," said Chief Executive Officer Joan Hatem-Roy. "We're very fortunate to have Grace Ann on our Board of Directors. She is always willing to help out whenever she can and has had an incredible impact not only on AgeSpan, but the 28 communities we serve as well."
Constantly on the move, Grace Ann shares her time and invaluable skillset with other charities throughout the Merrimack Valley.
She is also on the board of the Villa at Meadowview in Tewksbury, volunteers three days a week at the Tyngsborough Public Library, is on her church's finance committee, helps at the Tyngsboro polls during voting, and is the treasurer of the housing complex she lives in.
"I like to contribute, not stand by or sit by," Grace Ann said. "That's what I've done through the years."
Many of those years, 28 to be exact, were spent working in long-term care facilities across the country in personnel administration and as a business manager. She has always had a passion to be around people and help them however she can.
After leaving healthcare, Grace Ann worked at Xerox for 15 years, where she earned all kinds of accolades.
"Grace Ann is such an amazing person. Not only does she do a stellar job at her volunteer tasks, but she also always greets everyone with an enthusiastic and contagious smile, brightening everyone's day," said Kathy Growney, Director of the Tyngsborough Public Library.