More than 300 people regularly donate their time and talents serving others through our agency's programs and services.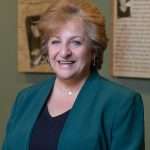 These volunteers of different ages and backgrounds have together donated more than 190,000 hours of service this past year. I feel fortunate that our agency benefits from their generosity, and what better time to recognize their efforts than during National Volunteer Month.
We have volunteers who help make sure our annual Golf Classic runs smoothly, enroll people in Medicare through our SHINE Program (Serving the Health Insurance Needs of Everyone on or Eligible for Medicare), advocate for residents of long-time care and assisted living facilities, help people pay their bills and balance their checkbooks, pack and distribute bags of food through our Mobile Markets, and much more.
These volunteers work across our service area providing critical support to older adults, their family members, and our employees.
One of those volunteers, Jennifer Currier, has been delivering hot meals daily for 12 years through our Meals on Wheels program and shows no signs of stopping.
"I just love it," says Currier, 43, of Haverhill. "I don't do it for the stipend. I actually really enjoy the people."
She helps out in the kitchen at the Haverhill Senior Center prepping the meals before heading out on a route in the Bradford area with 39 stops. Volunteer drivers like Jennifer may be the only person an older adult sees on a regular basis, and that daily contact can make all the difference.
"You have to really like this to keep doing it, and I do," Currier says. "I have gotten so much out of it over the years."
The outstanding work done by all of our thoughtful volunteers is critical for all those AgeSpan serves every day, not just during National Volunteers Month.
You can make a difference as well. To learn more about the different ways you can volunteer, call us at 800-892-0890 or email volunteeprograms@agespan.org.
Are you caring for an older adult or need help find locating healthy aging resources? Our experienced staff is available to help. Visit us online at www.agespan.org for more information. You can also call us at 800-892-0890 or email info@agespan.org. Joan Hatem-Roy is the Chief Executive Officer of AgeSpan, formerly Elder Services of the Merrimack Valley and North Shore.
First published in the Eagle-Tribune April 10, 2023