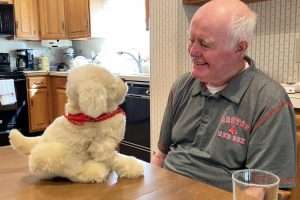 AgeSpan was one of 43 agencies honored for innovative programs and initiatives that help older adults at the 2022 USAging Innovations and Achievement Awards.
The national awards highlight success programs and were presented at the USAging 47th Annual Conference and Tradeshow on July 11. AgeSpan's Robotic Pets Program was recognized with an Achievement Award in the Social Engagement category.
The program provides robotic dogs and cats to people with dementia and their family caregivers to bring comfort, companionship, and fun. The realistic pets have fur to pet and make pet-like sounds, and each pet is embedded with sensors that respond to petting and hugs with familiar pet-like actions. The pets are calming and soothing while actively engaging the care recipient.
"We are thrilled to be recognized for our work in combatting social isolation and loneliness for older adults," says AgeSpan CEO Joan Hatem-Roy. "Our comfort pets program has been so beneficial to individuals and their caregivers. It creates much needed connections and brings so much joy. "
Since the program began in 2017, AgeSpan has distributed more than 250 pets. The pets address isolation, provide companionship and comfort, and help keep confusion at bay. To qualify for an award, programs must have been in operation between one and five years, receive minimal assistance from outside experts and demonstrate effective approaches in either offering new services or improving existing services. Awards criteria include demonstration of measurable results.
"We applaud our members for their tireless efforts to creatively develop vital services and supports for older adults, as well as their caregivers and people with disabilities in communities nationwide," said USAging CEO Sandy Markwood. The annual awards program, supported by iN2L, recognizes USAging members that have developed leading-edge and successful ways to demonstrate sound management practices that are replicable by others in the Aging Network.
About AgeSpan AgeSpan, formerly known as Elder Services of the Merrimack Valley and North Shore, is a private, nonprofit agency dedicated to helping people in northeast Massachusetts maintain the highest level of independence, health, and safety as they age. AgeSpan is a Massachusetts Aging Services Access Point and an Area Agency on Aging. For more, information about AgeSpan and its services, visit www.AgeSpan.org or call 800-892-0890.
About USAging USAging is the national association representing and supporting the network of Area Agencies on Aging and advocating for the Title VI Native American Aging Programs. Our members help older adults and people with disabilities throughout the United States live with optimal health, well-being, independence and dignity in their homes and communities. For more information about USAging, AAAs or Title VI programs, visit www.usaging.org.