Elder Services of the Merrimack Valley and North Shore remains open and continues to address the needs of elders and disabled adults for assistance in 28 communities in the Merrimack Valley and North Shore area. Because of the work we do, Elder Services is considered an "essential service" and remains operational. Although our staff is working remotely, and we are all taking appropriate precautions to limit contact, we continue to provide and expand services in response to the communities we serve.
Our care managers and providers continue to work with consumers to ensure their service needs are met, and they have adequate food and home care assistance. These services support health, nutritional needs, home sanitization and personal hygiene, as well as emotional support and comfort to keep elders safe in their own homes.

We have consistent delivery of Meals on Wheels each day. We have already seen a 20% increase in referrals to our Meals on Wheels program and are delivering now 3,000 hot meals daily. Each recipient receives a hot meal each day and has 11 days' worth of nonperishable meals in supply. We are also working with the food banks to deliver non-perishable goods to those in need.

We are hosting weekly calls with our local councils on aging and senior centers in 28 communities, to better understand local needs and how we might collaborate to meet those needs.

Our Protective Service team is still connecting with those older adults in our community at risk, assuring they are safe, and working with them to take appropriate steps when they are not.

We continue to build our information resource bank and are developing new tools like a nutrition resource guide for 28 communities we want to distribute in the next few weeks.
The upcoming weeks are going to be tough for sure. The work is challenging in this new "world" but I keep thinking about the impact social distancing is having on everyone, particularly older adults who may not have close family or friends nearby. Please take a moment to reach out to those folks and offer a friendly connection. It can certainly help break up the long, lonely hours ahead.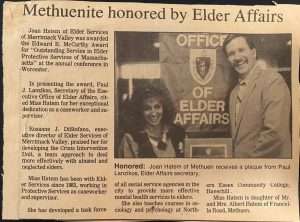 In conclusion, I want to publicly thank Paul Lanzikos for the past 9 months helping with our adjustment to the North Shore as part of the merger into one agency – Elder Services of the Merrimack Valley and North Shore. We have formally thanked Paul for his efforts and best wishes on the next leg of his life journey. But I wanted the public to know how grateful we are for his efforts. Pictured above is a photo of Paul and I in the late 1980's. I guess we have come full circle!
Thank you for your ongoing support. We hope this note finds you and your family safe and healthy. If there is something you need, that you think we could be helpful with please let us know.
Joan