Media Release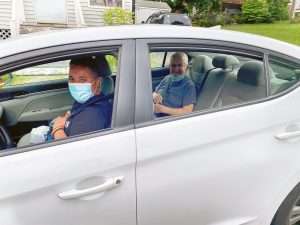 Thanks to a generous donation of $29,545 to AgeSpan's transportation program, CareRide, will now be able to serve older adults in Haverhill.
"The George C. Wadleigh Foundation has been a long-time supporter of the agency and once again the foundation has demonstrated its support by awarding funding to expand CareRide," says Joan Hatem-Roy, AgeSpan's Chief Executive Officer.
CareRide is a ride service for non-emergency medical appointments for people 65 and over who live in the Lowell and now Haverhill areas. The program provides transportation when no other options are available. The program uses Lyft, and there is a nominal fee to riders.
Says one rider, "Before CareRide, it was a challenge because I had to book my appointments around their schedules. I used to miss many important appointments. Now, with CareRide, I feel I have my independence back."
AgeSpan staff, Councils on Aging, and other community partners make referrals to the program in English and Spanish, and AgeSpan staff schedules the rides. Since it began in 2019, CareRide has provided 2,829 rides to 841 riders. Riders range in age from 54 to 100 with an average age of 82.
To learn more about CareRide, visit https://agespan.org/solutions/transportation/ or call 800-892-0890.
About AgeSpan
AgeSpan, formerly known as Elder Services of the Merrimack Valley and North Shore, is a private, nonprofit agency dedicated to helping people in northeast Massachusetts maintain the highest level of independence, health, and safety as they age. AgeSpan is a Massachusetts Aging Services Access Point and an Area Agency on Aging. For more, information about AgeSpan and its services, visit www.AgeSpan.org or call 800-892-0890.