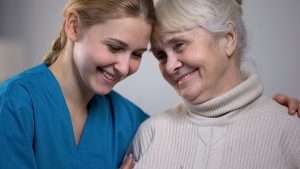 LAWRENCE – With more than 138,000 older adults in Massachusetts with Alzheimer's disease or related dementias, the need for trained caregivers has never been greater.
Elder Services of the Merrimack Valley and North Shore was one of only a dozen organizations in the country and the only one in the Commonwealth to receive a new Alzheimer's Disease Programs Initiative grant from the federal Administration for Community Living. The award is for a total of $854,147 over a three-year project period.
"We are so appreciative of this award," says Joan Hatem-Roy, chief executive officer at ESVM-NS. "This funding will help us expand our programs as well as start new training initiatives, including one for the caregivers of those with intellectual or developmental disabilities, a population that is more at risk for Alzheimer's and related dementias."
More than five million Americans are currently living with Alzheimer's disease or related dementias, and researchers anticipate the number of people living with those diseases will nearly triple by 2050 as the population ages.
ESMV-NS will start a training program at Bridgewell Inc. and Fidelity House Human Services & Career Resources Corp., for staff who work adults with intellectual or developmental disabilities.
Additionally, ESMV-NS will train its information and referral employees and Meals on Wheels drivers on recognizing behaviors related to dementia to connect individuals with appropriate services.
Hatem-Roy says a Meals on Wheels driver may be the only contact an isolated adult has on a regular basis, and now those drivers will have a better awareness of and know what to do if they notice different behaviors from those consumers.
The grant money will also help expand the Savvy Caregiver program, which is operated through ESMV-NS's Healthy Living Center of Excellence, which provides evidence-based workshops and training services across the state.
Savvy Caregiver is a six-week training program for those who care for someone with Alzheimer's or related dementias. Since 2017, more than 1,500 caregivers have been through this training, says. Hatem-Roy.
Elder Services of the Merrimack Valley and North Shore, Inc. is a private nonprofit with a mission to ensure programs and services are available and accessible to meet the diverse needs and lifestyles of older adults in 28 communities. We are a federally designated Area Agency on Aging and a state-designated Service Access Point and Protective Service Agency. Learn more at www.esmv.org.