Our Reunir Restaurant Program is featured in a new podcast series, ReiMAgine Aging, produced by the Massachusetts Executive Office of Elder Affairs, in partnership with Point32Health Foundation and the Massachusetts Healthy Aging Collaborative. Listen to the episode "Savoring Food That Matters." The podcast series highlights voices from statewide and community leaders, older adults, and non-profits who are taking part in the age- and dementia-friendly movement. The series is available on Spotify, Apple Podcasts, and at reimagineaging.net.
Let's Go Out to Eat
Six months ago, Pheng, a 62-year-old Cambodian immigrant living alone in Lowell, found herself lonely, isolated, and stressed. She had a limited income and regularly ran out of food before she had money to purchase more. She couldn't afford to go out to lunch with a friend or family member and struggled with finding ways to stay connected.  
Today, Pheng enjoys two trips a month to a local Cambodian restaurant, where she can talk with friends and feel both supported and less stressed. 
Pheng is one of over 150 Southeast Asian or Latino older adults benefitting from AgeSpan's Reunir Restaurant Program. Reunir (which means "to gather" in Spanish), is a partnership between AgeSpan, the Cambodian Mutual Assistance Association, and local restaurants in Lowell and Lawrence. Through the pilot program, older adults of Southeast Asian and Latino descent can receive two free dine-in meals a month at any of the participating local restaurants. 
"Part of the idea is there aren't a lot of nutrition programs providing culturally tailored meals for older adults of Latino or Southeastern Asian descent," said Jean Lussier, a community nutritionist at AgeSpan. "We know there is a high degree of food insecurity in older adults of this population. This is especially challenging for those who already feel lonely and isolated." 
The three-year pilot program is possible through an Administration of Community Living grant and is designed to improve access to healthy meals, reduce food insecurity, and increase social engagement for older adults in immigrant and refugee communities. The goal of the pilot is to enroll 200 people in the first year and 600 by the end of year three.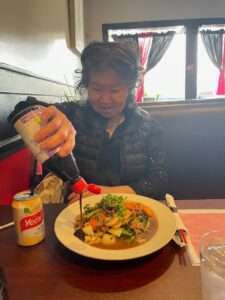 Sizzling Kitchen, where Phech Chea, left, enjoys a meal, is one of three restaurants in the program. The other two are Simply Khmer of Lowell (owners Denise Ban, Sam Eang Lee, and son Xavier Eang Lee below left) and El Taller/Café Azteca (owners Mary and Antonio Guerrero below right) of Lawrence. Additional restaurants will be added to the program.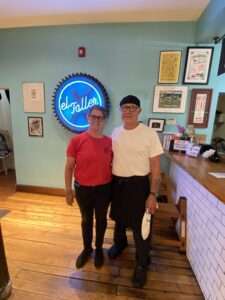 "It's been good," said Phuong-Tuyen Nguyen, owner of Sizzling Kitchen in Lowell. "We keep getting more and more applicants coming in." 
In Massachusetts, 1-in-7 people are food insecure, which can put older adults at an increased risk for obesity, diabetes, heart disease, and other chronic health conditions. Nearly a quarter of older adults are considered socially isolated, which is associated with about a 50 percent increased risk of dementia. Poor social relationships are associated with a 29 percent increase in risk for heart disease, and loneliness can lead to higher rates of depression, anxiety, and suicide. Non-English-speaking populations have the highest need for such services.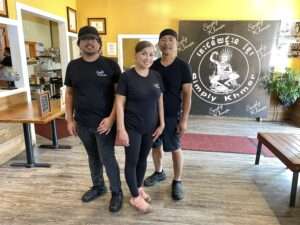 To participate, applicants must be at least 60 years old and undergo a screening process. Those who qualify receive two free meals a month at one of the designated restaurants for a dine-in meal. 
This fall, there were 158 participants already in the program.  
"It's a great program," Nguyen said. "We really like these kinds of things. We want to be a part of the community and a program that offers assistance." 
Denise Ban of Simply Khmer said she and her husband, Sam Eang Lee, heard about the pilot program through the Cambodian Mutual Aid Association.  
She said they like to give back to the community whenever they can. They have helped people displaced by fires and support local youth programs. The restaurant pilot was another way to give back to the community that has meant so much to them since opening the restaurant 17 years ago. 
The program is continuously growing and there are plans in the works for at least one more restaurant in Lawrence.   
There aren't many programs like this in the country. Nguyen said she's proud to be part of this pioneering program. 
"It's definitely rewarding," Nguyen said. "Knowing we're the first, testing how this works, and providing feedback. It's great helping to get this program to be successful." 
Pheng says the Reunir program has helped her see her friends and family more often, as well as allowed her to eat more nutritious foods. Her only complaint? She'd like to see even more Khmer restaurants sign onto the program.  
To learn more, contact Program Manager Kara Lakin at 978-651-3068 or email klakin@agespan.org