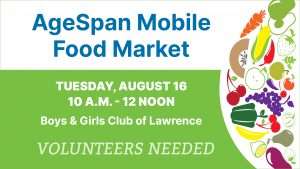 AgeSpan's first mobile market is on August 16 at the Boys & Girls Club at 136 Water Street, Lawrence
The Mobile Market will be held every third Tuesday from 10 a.m. to 12 noon
Fresh produce and other food items are provided for free by The Greater Boston Food Bank. The Mobile Market is set up in a farmer's market style to allow people to choose from a diverse selection of items. The market will be outside during the summer and move inside during the winter months.
The AgeSpan Mobile Market is open to Merrimack Valley residents of all ages. Participants should bring their own bag, and items are available on a first-come, first-served basis.
Volunteers are needed for about three hours each month to set up, help with distribution, and clean up. Flexible scheduling is available. Business and community organizations are welcome to volunteer.
If you are at least 18 and want to volunteer, please contact AgeSpan Program Manager Ruth Ortiz at rortiz@agespan.org or call 978-946-1279.